Cigars are a great gift idea for any occasion, but especially at Christmas. With so many different cigars to choose from, it can be hard to find the perfect one.
Luckily this article has you covered with all the info you need to find the best gifts for the cigar lovers in your life.
The History and Tradition Behind Cigar Gifts
The tradition of giving cigars as gifts has its roots in Native American culture. It was a way to mark important occasions and celebrate them with potlatch, an ancient practice where valuable goods were passed around among friends and family members who had gathered together for this purpose.
The men would often wait outside during childbirths while their wives endured pain inside until they could come back later after the delivery was over; meanwhile, these males smoked out of boredom or anticipation – either because no one knew when it might end (potlatches typically lasted days) or because it wasn't a woman's place to worry about matters outside of the home.
The history behind these traditions is significant because it holds essential cultural symbolism and demonstrates how cigar smoking has been woven into time-honored customs for hundreds of years.
Types of cigars you can get for Christmas gifts.
Cigar gift sets are a great way to give a variety of choices and make it easy for the cigar smoker in your life (that's you, dad) to sample as many as possible. They're also a very thoughtful gift – each time they light up, they'll think of you!
Cigar Sampler Packs
Sampler packs typically contain four to twenty cigars, or sometimes even more. They include various shapes and sizes of the same brand, so it's easy for the cigar smoker to see which ones they prefer.
They also make it simple for you, as the giver, to try out several types before deciding which one is right for your gift-giving needs.
Deluxe Gift Sets
Deluxe gift sets, also known as "cigar assortments," are perfect for the serious cigar smoker in your life.
They contain three to seven different cigars, often of high quality and cost, so you know they'll be well appreciated. These deluxe gift sets are available with many cigar brands and many price ranges.
Gift Boxes
Gift boxes make excellent gifts for any occasion. They come in various sizes and styles and often contain both cigars and accessories like cutters, lighters, ashtrays, or cigar humidors.
However, they can be very costly depending on the brand you choose, so it's not recommended for new cigar smokers unless they're an enthusiast.
Tips to help you choose the best cigar brands and types to give as gifts.
When you're giving premium cigars, you must know what type of smoker they are (light, medium, or full-bodied), so take notice of your last few encounters together.
If they mention they have a new favorite or have been trying out different kinds of cigars lately, this is a good time to surprise them with your gift.
Light Cigars
If you know they smoke light cigars, go with anything from La Aurora, Arturo Fuente, and Joya de Nicaragua. For example, the La Aurora Preferidos Diamond is a mild-bodied cigar with coffee, cocoa, and pepper hints.
Speaking of coffee, be sure to read our ultimate guide to pairing Coffee with cigars.
Some of our most popular La Aurora Cigars are:
Medium Cigars
If they smoke medium cigars, try something new like La Gloria Cubana or Punch. Both brands are well-known for their excellent quality and impressive styles.
A good example is the Punch After Dinner Maduro -A full-bodied Honduran blend, its easy draw and perfect burn will satisfy any cigar connoisseur, especially after a particularly good meal.
Full-Bodied Cigars
Look no further than Arturo Fuente Chateau Fuente King T or Padron 1964 Anniversario Series cigars for the best of the best. These are excellent examples that can't be missed – they're full-bodied and satisfying, but also complex and outstanding in every way.
If you're lost about what to buy for your cigar-smoking significant other or father or friend, never fear! Cigar aficionados always appreciate a good cigar more than anything else, so it's understandable if you don't know a lot about them yourself.
Just take a small taste of what they have to offer, and you'll already be miles ahead!
Benefits of giving cigars as gifts.
Cigars make excellent Christmas presents for both men and women alike.
They're thoughtful, impressive, classy, and enjoyable.
Plus, if you give a popular brand or a deluxe assortment, it's likely that the recipient has never tried it before. That means they'll be excited because you gave them something unique and new to try!
Whether your cigar smoker is a beginner or aficionado, it's always fun to discover new brands and styles of cigars.
When you give cigars as gifts, the excitement of trying out something new together will bring you closer than ever. After all, a little discovery is a beautiful thing!
Speaking of Christmas, be sure to read out post on interesting facts about cigars to have some anecdotes to use at your Christmas gatherings.
How much should you spend on cigars for Christmas gifts?
It isn't necessary to spend a lot on cigars for Christmas gifts. In fact, it's best not to go over your budget so you don't waste money on something they won't use or appreciate.
It's always better to stick within your price range so you can get more for your money and give them only the best!
Cigars are great because you can usually find an equally great cigar for every budget. Even if you're on a strict college student's budget, it doesn't mean that they won't appreciate the gesture of giving cigars as Christmas presents.
With just $20 to spend, even your college student friend or significant other will be happy with something like the AJ Fernandez San Lotano Requiem Habano.
Don't forget about the women in your life!
Cigar smoking women are on the rise, which is why it's important to remember that not all cigars are for men. With all of the different cigar brands and styles out there, giving a woman a cigar as a Christmas gift is always an excellent decision!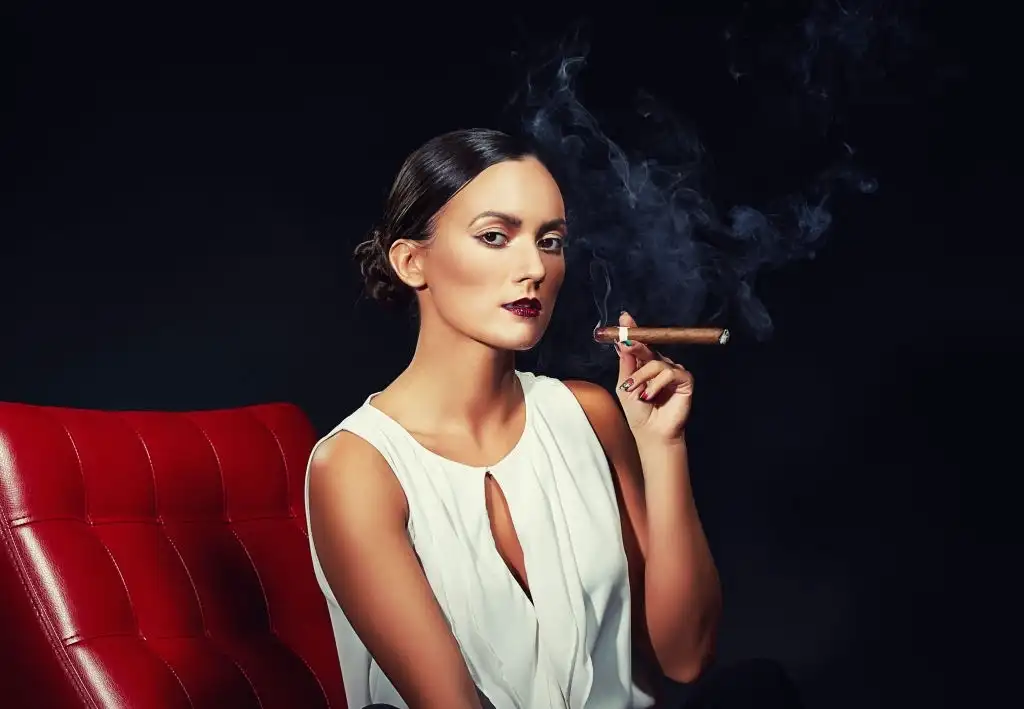 From flavored cigars to those with less nicotine, you can never go wrong with giving a cigar to a woman. Some of the most popular brands for women include Macanudo, Gurkha, and Avo cigars.
If they're always on the go, try an Avo cigar. They have flavors for every woman's taste preference, are well-known worldwide, and are perfect if you want to give a luxurious gift without breaking the bank.
Here's what to watch out for before giving cigars as Christmas gifts.
Just because you can find an incredible cigar for every budget doesn't mean that there are no bad cigars out there. It's always wise to be aware of the dangers of bad cigars, so you know the best brands to buy!
You'll want to stay away from counterfeit or fake cigars because they don't have proper manufacturing standards and could be made from the wrong type of tobacco, which results in a foul taste and horrible burn.
As long as you stick to buying cigars that come from reputable sources and have great reviews, it shouldn't be difficult for you to find something your cigar smoker will love!
Make sure they're high-quality and within your price range before you get them, and they'll be sure to become a lifelong favorite.
Don't forget about cigar accessories!
Cigars need the proper accessories to ensure that they're enjoyed to their fullest. A cigar cutter and a lighter are both necessities for any cigar smoker, so you'll want to make sure those come as part of your Christmas gift!
There is no such thing as too many cigar lighters. Trust me, every woman and man who smokes cigars has a lighter or two, but they always need more.
For example, Xikar lighters are the best lighters money can buy, and it's easy to see why! They're made from high-quality materials, have a lifetime warranty, and come in all different colors for men and women.
Get them the the Xikar ELX Double Jet Flame Lighter and they'll love you forever!
You can never have enough cigar cutters, either. You always need one at home, in your car, and in your briefcase – a good cigar cutter should be a part of everyone's life!
For example, the Xikar VX2 V-Cut Cigar Cutter makes some of the best cigar cutters that are high-quality but won't put a massive dent in your wallet.​​
Where can I buy cigars online?
It's easy to buy cigars online with just a few clicks. Plus, you won't have to go out in the cold and fight crowded stores during the holiday season!
Please take advantage of specials on cigar brands for Christmas gifts, or explore new ones now that they're readily available to you.
Here at Screaming Eagle Cigars, we offer a wide range of options and great prices, so you can give cigars as Christmas gifts to your cigar aficionados without breaking the bank.
For more information about buying cigars online, feel free to browse our store or contact us directly.